One of my favorite parts about my type shop work is the process of hand-picking which prints to use for which words. This is when I get to look through all of my gorgeous botanicals hidden away in their bindings and see what kinds of moods they cultivate, what feelings their colors inspire, what memories they trigger with their textures and age marks. It is not a random act of picking and I do not take it lightly. Maybe you don't notice at first glance, but if you look again at one of my prints, you may just see how delicately a certain phrase rests beneath a petal, how divisively one sits between a set of stems. There are often practical considerations such as whether there enough room for what I want to write, but the rest is up to feeling.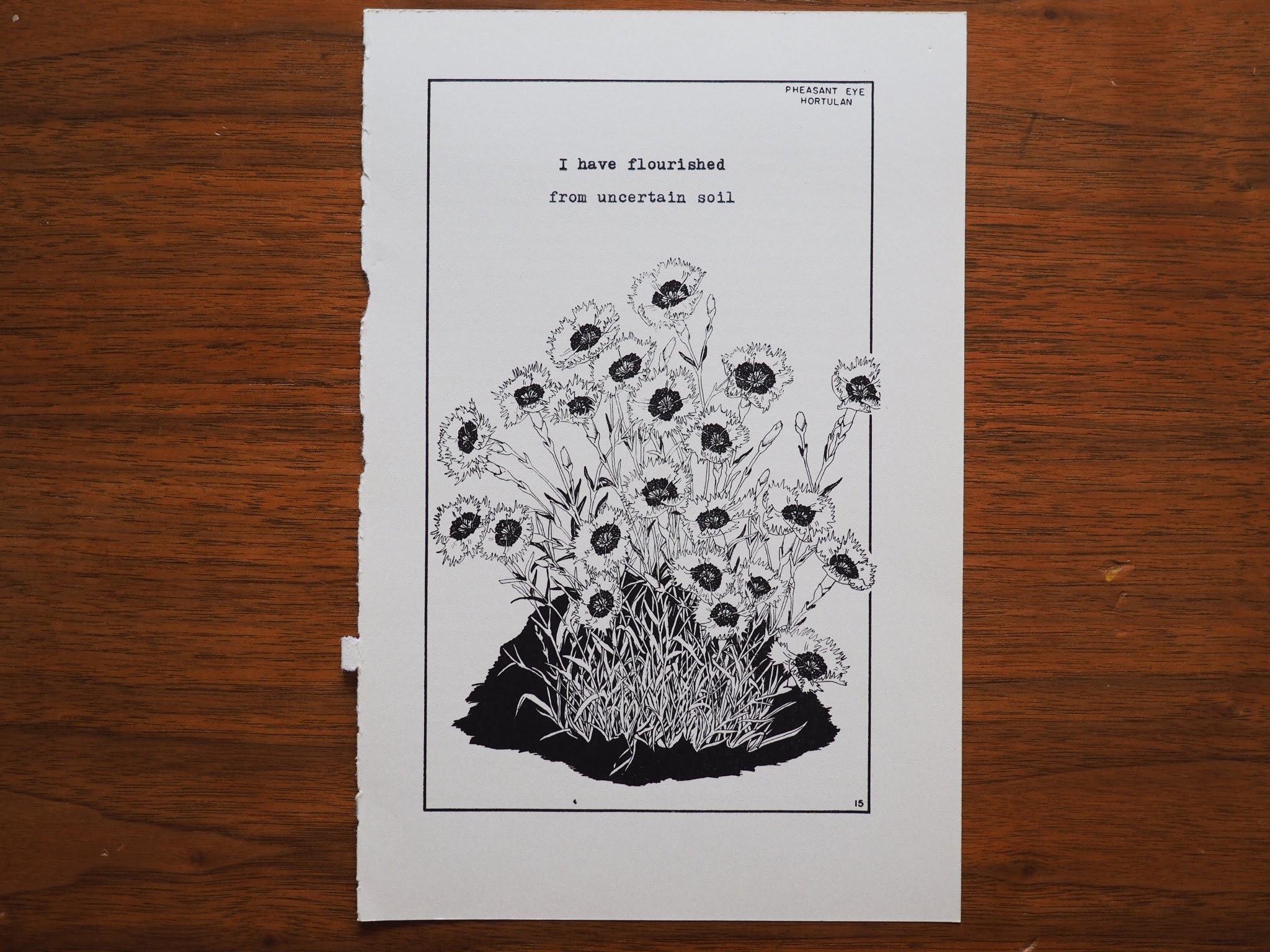 Almost all of the words on these prints have their origin in longer personal poems of mine, written in real moments of healing or hurt, but it took years before these things all came together. Long before I started this type shop, I think I was drawn to botanicals, not only because they are completely and objectively (!) gorgeous, but because I sensed some deep potential in their forms. The poses, the colors, the lines, the particular marks of aging, embodied so many possible emotions for me. The connection to nature that flowers espose, at once beautiful and fraglie; bold yet impermanent, also brought me to thinking about bodies and gender through metaphors of roots, growth, cultivation, and wildness. I used to keep  them in unceremonius stacks, torn from their dusty books and bound by rubber bands. I piled my feelings in with them.
For a while before I came out as trans, I was aware of some immense and unameable thing happening to me, to my body. Through my writing and in the physical process of tattooing my back with flowers, I came to recognize this feeling as being overgrown. I was being overgrown, not as something un-cared for, but as something let free to return to wildness. For me, overgrowth was a process of healing. This feeling is at the heart of my work. Every time I type a print, I am practicing healing. I am sharing not only my words, but my emotions and experiences, and I hope that you can see and feel them, too.